Catherine ordered her prom dress in the wee hours of the morning from her bed in the Emergency Dept. at Boston Children's Hospital. Covering her port was an important consideration so Cat chose this beautiful 'foggy blue' dress with a lace halter top, an open back and an empire waist.  Catherine adored it.  It was exactly as she had dreamed.  We bought a new, longer wig as she wanted a braided updo, a style she had always envisioned for her prom night.  She had been 'prom-posed' to by the boy she had been hoping for. Unfortunately, Catherine landed back in the hospital for two weeks prior to the Junior Prom on May 29, 2015.  A glam squad was arranged to primp her on the oncology floor.  Julie and Meghan, her beloved nurses, worked hard to ensure Cat's body was in the best dancing shape possible.  A lovely friend even sent over a set of jewels for her to wear.  Catherine arrived home the night before prom weak but so very excited.  Like a warrior she rallied.  Nothing was going to stop her from attending prom.  Peter was a perfect gentleman, taking such good care of a very fragile Catherine that evening.  He and Catherine's friends were so happy to see her and made sure she had a great night.  She even gathered enough energy to dance a few dances and to stay out until 2:30am. Cat had the night of her life.  Thankfully.  Because five days later Catherine checked back into Boston Children's, never to return home.  That was the last time most of her friends ever saw her.  Her beloved dress hung on the back of her closet door as she had left it the night of the prom.
​The day after the prom Catherine posted a picture of she and Peter.  Cat received many comments on the photo.  Jillian Danton (far left), an AHS junior at the time, had specifically commented on how much she liked Catherine's dress.  A few months after Catherine died Jen recalled that comment and texted Jill to ask if she would ever be interested in wearing Catherine's gown.  Jill responded that she was delighted and would be honored.

At Christmas Jen and Gregg invited a bunch of Catherine's Camp Coniston friends over for a visit.  As the evening progressed the group made its way to Catherine's bedroom.  Jen always invited Catherine's friends and family to choose an article of clothing, a pair of shoes, a piece of jewelry, something of Catherine's to take, wear and cherish.  The girls saw Catherine's prom dress hanging on the back of the closet door.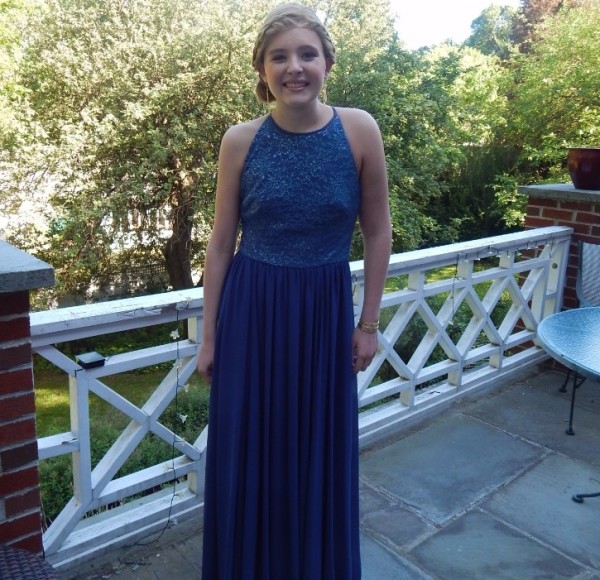 J
en jokingly asked if anyone needed a prom dress. The girls looked at each other and one burst out with the gleeful suggestion that they should all wear Catherine's dress to their proms that Spring. One by one Carly, Emma, Katie and Caroline tried on the gown.  Magically, with very different body types, the dress fit each girl like a glove.  Katie's high school did not have a prom last Spring and Caroline's nearly did not but Carly Blau (far right) and Emma Schambers (inner left) decided that they would honor Catherine's memory and bring her spirit to their proms by wearing the gown.  Jen and Gregg were deeply touched and thrilled.  

Coincidentally, a few days later, Catherine's dear friend Lauren Hourican (inner right) texted to ask if she, too, could wear the dress to the AHS Senior Prom.  The other incredible aspect of this story is that there was no schedule overlap!  With some incredible feats of tailoring by wonderful Sheryl and some interstate transport, each girl was able to wear the dress on her big night.  Jen attended each pre-prom picture party where there was not a dry eye in the house.  Look how absolutely stunning they are!  Catherine would have loved this.